It was never going to be long before I had a go at knitting a caterpillar, as their simple shape is great for some quick-knitting, and they make a lovely knitted gift idea. I was spurred on recently as Ellie had the wonderful opportunity (with her amazing childminder) to watch caterpillars each form a chrysalis, and then help set them free as they hatched into beautiful butterflies. This inspired me, as well as the famous-in-our-house Colin the Caterpillar, who was bought for our eldest daughter Caitlin to help her with letters and sounds before she started school (see picture!) Although my design is based on our Colin, I spotted a couple of little caterpillar chappies at our local Twinlakes park for added inspiration for my caterpillar design... with my kiddies kindly showing them off!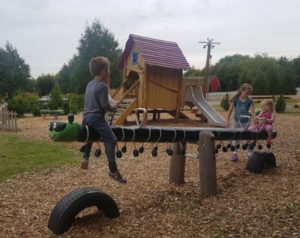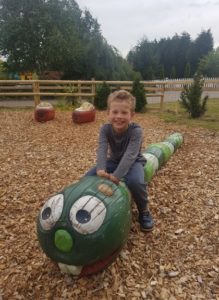 The Design...
Instead of Colin's alphabet, I wanted to go for a shorter, quicker numbers version. Great idea in principle but my problem was how to make the numbers themselves. I had a look locally to see if could find some ready-made fabric numbers to sew on but unfortunately could not find any. Great to support your local independent shops, but may be easier to look online if you fancy this option. Running out of patience, I thought maybe I could just make my own, cut out of some nice fabric. But this would obviously have taken quite a bit longer. So eventually, as plans and ideas generally evolve, I found a little pot of mixed buttons which I thought looked nice. Although they didn't have the numbers 1 to 5 as I'd hoped, they did have all the letters for Ellie (sorry Caitlin and Charlie, your names were too long!)
Depending on the use for your caterpillar, any of these numbers/letters options can work. If for a child, take their age into account, and what might be appropriate to make it more kiddy-friendly. If sewing isn't your strong point, these little buttons with their choking hazard should obviously be avoided. They're also not the comfiest to cuddle for babies. Leaving the caterpillar plain or using fabric numbers is probably a better bet.
Experiment with Ideas...
When coming up with new pattern ideas, patterns such as this caterpillar often get adjusted along the way. Sometimes it's a lightbulb moment or a new flash of inspiration, but also can be a child's preference (the first thing Ellie said when she saw the completed body piece was 'where's pink?' Well, can't get it right all of the time...
So feel free to make any adjustments, or combine patterns to come up with your own ideas. Finger knitted legs were my choice for speed and ease but proper little feet would look very nice, and might be worth the extra time. (Perhaps use the pattern from the little monster feet, making the legs slightly longer for a caterpillar.) I may well come up with a dragonfly at some point - making one in the same way as this caterpillar, but individual segments getting gradually smaller, and adding some wings. With a few other adjustments, this could be the start of a little critter collection!
Get Children Involved...
As well as adding to your pot of ideas, my children certainly love to get stuck in. Ellie was very intrigued, mainly with the stuffing of the caterpillar - and had great joy in throwing the stuffing around the room - 'clouds mummy!' She then proceeded to pack a bag full of clouds to take with her to a teddy bears picnic...
After completing the little caterpillar, he was given to Ellie with great anticipation and she then took it to bed with her (very privileged to get a place in there!) I think the build-up in seeing him being made added to the excitement of him finally being hers. Unfortunately, this was followed with a little upset and confusion that she couldn't see the clouds... I explained to her that the clouds are sewn in but will always be in there and whenever she wants to feel the clouds she can give the caterpillar a little squidge. Smiles all round!
Check back in the updates here next weekend or email me to get the updated patterns straight to you. After a last minute, "I don't know what to get for an anniversary present" (11years!) I have a little quick knitted gift idea up my sleeve for next week...
Happy knitting!
Ali 🙂
Total time 5 Hours 15 Minutes (as Shown)
Made from four knitted pieces - the head piece, two antennae, and a long single body piece made of 5 coloured segments and the rear end. There are 5 finger-knitted pices which help to form his 10 legs. All pieces are sewn together with added decorative side buttons, a nose button and sewn-on facial features.
Vary colours to your preference, and vary the length by adding extra segments. Chose your own lettering/numbers and change your nose button or choose your own facial expression!
Makes a perfect knitted toy for a child to cuddle, a nice decoration, or make one super-long version for a happy draught excluder!
Knit Your Own Caterpillar...
Get some ideas, see what you will need and follow the patterns to learn exactly how you can make your own...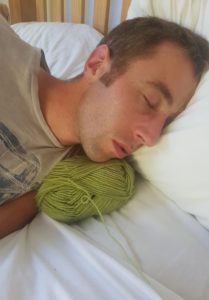 Getting stuff done...!
Nothing is ever quite as straightforward with a house of kids and a husband-child. Just wanted to add these little pictures in, just part if fitting things in around around real life, whether it's a husband falling asleep on your ball of wool or a child photo-bombing! (But she is a cutie so easily forgiven.) And I'll add mowing and watering the lawn to the list of jobs...