After spotting a sneaky primrose which had popped itself up in the centre of our path, I decided to knit a little primrose plant. The plan was to have it as a nice decorative side piece in the house or a conservatory (or cheer up my room at work!) with the added bonus of not needing to be watered...
As for coming up with my particular pattern, the design has been created through quite a bit of trial and error to get the exact size and shape I wanted. But there is no right and wrong, nature comes in all sorts of shapes and sizes so feel free to use this pattern as a rough guide if you'd like to make adjustments for your particular creation.
The primrose flower was a particular challenge. I have used the 'yarn over' technique to get the petal edges, but I also wanted my flowers to have the correct number of 10 tips. So to get this number I had to bring in a little maths and I've put details of this calculation on the pattern page itself - not needed at all to understand but helpful to know if you want to try and get a different number for a different kind of flower.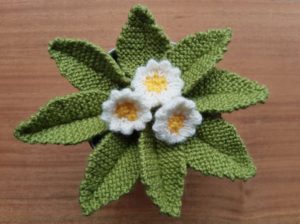 A Work of Art Takes Time...
I needed to set aside quite a bit more time for this than intended, both due to my amateur errors, but also the usual 'he did this, she did that' scenario (bring on bedtime...) But breaking this plant down into smaller parts, doing a couple of leaves per night (just over an hour), I managed to get the whole thing done within a week. I could also have done fewer leaves which would have pruned off a bit of time (sorry...), but I wanted a good-sized plant to not look lost on the windowsill.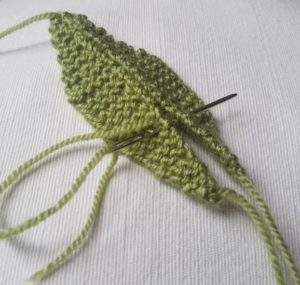 After making several variations, I settled on making the leaves in two parts. Stitching these two halves together produced the more prominent centre line as can be seen on primrose leaves. The leaves could also be made using a single piece, and I have included this as a pattern variation, which may save a little time on sewing up. It may also be better suited if you want to have a go at trying this pattern for a different plant that has a smoother leaf. If doing this, you could also backstitch a centre line onto it. Lots of options!
For the leaves, I chose garter stitch to give the leaf added texture/lumpiness, making it look a bit more realistic. I also chose to put the 'increase' stitches at the end of the row (as opposed to increasing on the penultimate stitch) which added a more wobbly edge.
Experiment with Colour...
Adding some decorative floral pieces can give that year-round colour to your room, and also help to blend the transition with indoors and outdoors, and cheer up even the darkest of rooms. With regards to colour schemes, I went for the cream/yellow design like the primrose I spotted in my garden (although the cream looked a bit more white than I'd planned!) However, I did also see some bright pinks and purples on Google which did look a bit more cheerful, so take your pick of the bunch (pardon the pun...)  You may also like to choose a couple of different shades of green for some different leaves as per the real plant.
A Couple of Tips...
Due to constant child interruptions, I kept losing track of how many rows I had done. And the pattern itself means that it isn't always clear to simply count the exact number of rows, so these are some tips I found helped me.
To allow you to remember whether you are on an odd or even row, I found it useful to look at the cast on edge and see which side the yarn end is dangling from. I also used an already-completed piece as a template to ensure they were all the correct size. Doing this allows you to know exactly where you are in the pattern without counting all of your rows every time you get interrupted...
Alternatively, simply blame any errors on nature - the leaves are supposed to be different!
Check back in the updates here next weekend or email me to get the updated patterns straight to you. After several weeks of flower-themed patterns, I think I'll try something different next time, and with another friends christening on the horizon, it's knitting-gift creation time!
Happy knitting!
Ali 🙂
P.S. Just need some nice decking or patio area to take some nice pictures of the finished piece (nudge nudge wink wink to my husband Sam...!)
Total time 6 Hours 30 Minutes (Plant as Shown)
Made from three knitted flowers, three finger-knitted stems, and sixteen knitted leaf pieces to form 8 leaves, all sewn together.
Vary your colour and adjust the leaf or flower size to your preference.
Perfect to cheer up a room!
Knit Your Own Primrose Plant...
Get some ideas, see what you will need and follow the patterns to learn exactly how you can make your own...