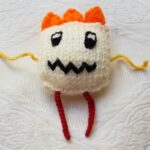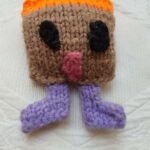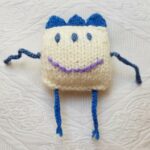 How to Knit a Monster
Complete Size – Approx. 7cm width x 9cm height (dependent on design, excluding limbs)
What you will need...
Total time - 2 Hours 30 Minutes each Knitted Monster
4mm knitting needles (UK 8, US 6)
3.25mm knitting needles (UK 10, US 3)
Chunky and regular Double knitting yarn - any desired colour
Sewing up needle
Scissors
Tape Measure
Stuffing/Toy Filling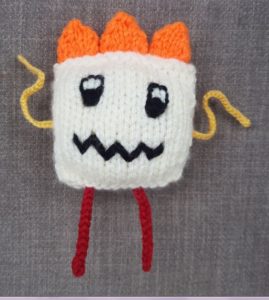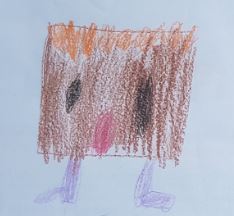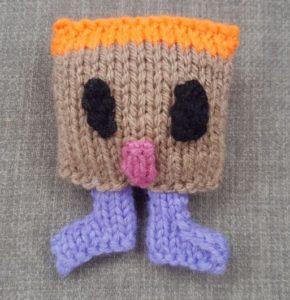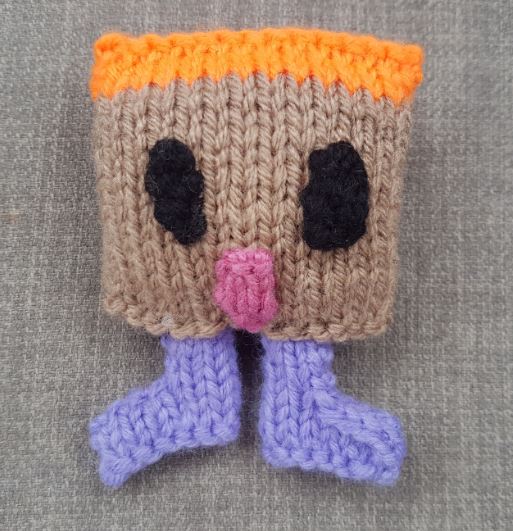 Before You Start...
Abbreviations
K = Knit   P = Purl   St = Stitch   Sts = Stitches
Cast On - I use the thumb method.
G-st = Garter stitch. Every row knit.
St-st = stocking stitch. Alternating a row of knit stitches (right side), with a row of purl stitches (wrong side).
Inc = Increase - by knitting into the front and the back of the same stitch, to make two stitches out of one.
K2tog = Decrease by knitting two stitches together, making one stitch from two.
Cast off - K wise unless otherwise stated. US - bind off.
B&T tightly - Using sewing up needle, thread yarn through all remaining stitches.
TOP TIPS
Kids Have Great Imagination - Get them involved in creating a design for you, while also giving yourself a bit of a challenge!
Chunky yarn for the Main piece - This results in a larger more cuddly monster (with less effort!)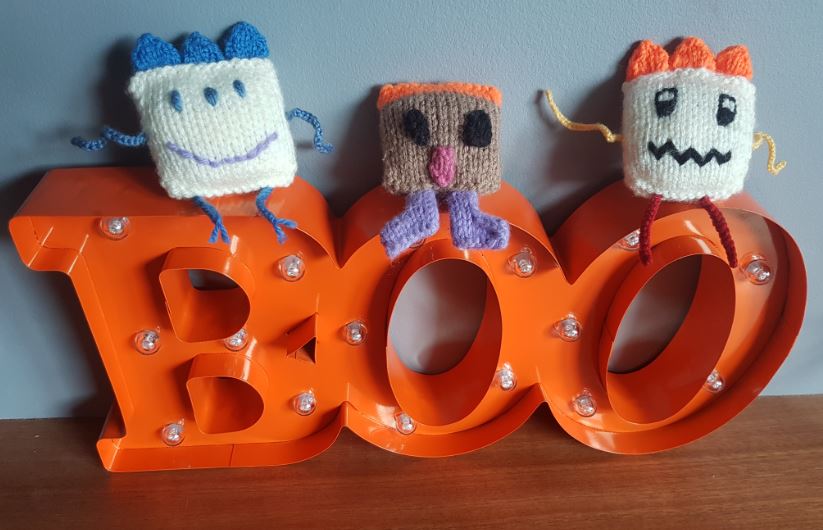 How to Make it...
Made up of two knitted pieces oversewn together, with various designs to add your own little twist.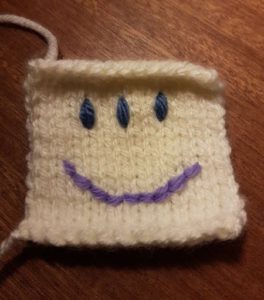 Main Piece
Make 2 for Each Monster
Time - 20 Minutes Each
Size 7 cm Square
Needles 4mm
Yarn - Cream
Cast on 14sts
Beginning with a K row, St-st 17 rows
Cast off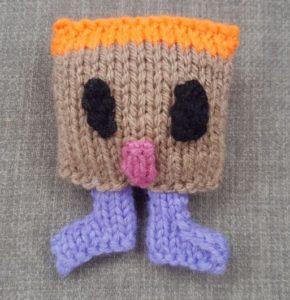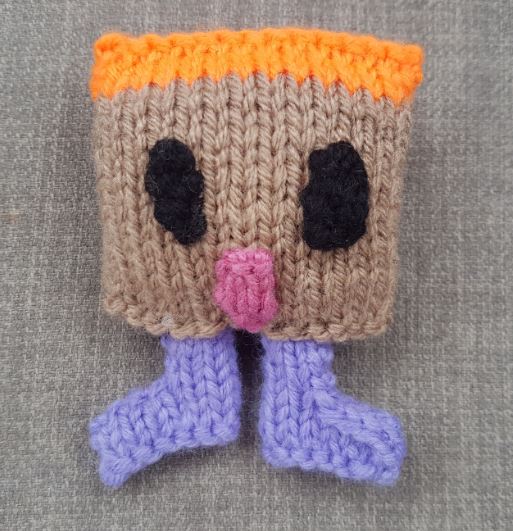 Eyes and Nose
Time - 5 Minutes Each
Size 2 cm
Needles 4mm
Yarn - Black/Pink
Smaller Black Eye (left)
Cast on 1 st
Inc K wise into St (2sts)
St-st 3 rows
K2tog and fasten off
Larger Black Eye (right) & Nose
Cast on 3sts
St-st 5 rows
B&t tightly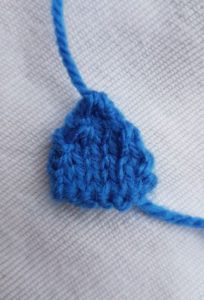 Making Spikes
Make 2 Pieces for each Spike
Time - 10 minutes each
Size - 2cm
Needles 3.25mm
Yarn - Blue
Cast on 7sts
Beginning with a K row, St-st 2 rows
K2tog, K3, K2tog (5sts)
Next row P
K2tog, K1, K2tog (3sts)
Next row P
B&t tightly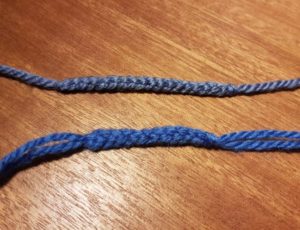 Making Limbs
For the Cream and Blue monster...
For arms, finger knit a length of 6cm using chunky yarn (top of picture above).
For legs, finger knit a length of 4cm using two strands of yarn together.
Leave 1cm length of yarn beyond the knotted end to make fingers (this looks better if more strands of yarn are finger knitted together). My monster shows fingers from only two strands.
Chunky or extra strands of yarn together make thicker, less bendy limbs.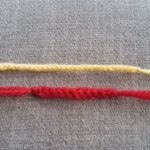 For Caitlin's 'Spike' orange and cream monster...
For yellow arms, finger knit a length of 7.5cm in a single length of regular yarn.
For red legs, finger knit a length of 5cm in a chunky yarn.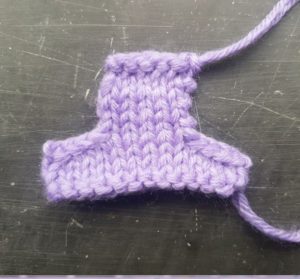 Making Feet
Make 1 Piece for each Foot
Time - 10 minutes each
Size - 3cm
Yarn - Two strands of regular yarn as above, or chunky.
Needles 4mm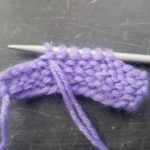 Cast on 14sts
Beginning with a K row, St-st 2 rows
Cast off 4sts and continue K (st-st) for the remainder of the row (10sts)
Cast off 4sts Pwise and continue P for remainder of the P row (6sts)
Continue to work 5 further rows in St-st
Cast off Pwise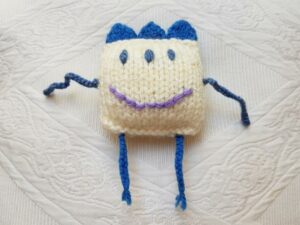 Piece it Together...
Add on any face design with embroidery (I used backstitch) before sewing up the monster. This will better hide any loose ends from fastening off.
For spikes, oversew two spike pieces for each spike with wrong sides together.
Attach spikes and limbs to the edge of main body piece.
With right side of stocking-stitch on the outside, oversew row ends and cast on and cast off edges of the two main body pieces, making sure you add some stuffing prior to the final closure. Mattress stitch will leave a nice neat finish.
Ensure if any pins are used, that they are removed when complete.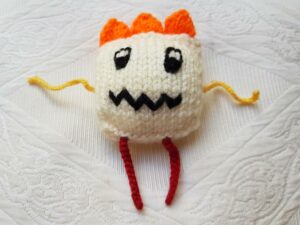 Make it Different!
Using garter stitch may be easier for children or those who are learning. This still makes a cute fluffy monster, however, depending on your tension you may need to vary the number of rows to make a perfect square. I found 25 rows were needed.
Instead of chunky yarn you could use two strands of regular yarn, and if doing so, using two different colours can also have a nice two-tone effect.
Alternate with different coloured yarns every two rows to make a stripey monster. This also looks great on the reverse side of stocking stitch.
Add however many limbs/eyes/spikes as you fancy!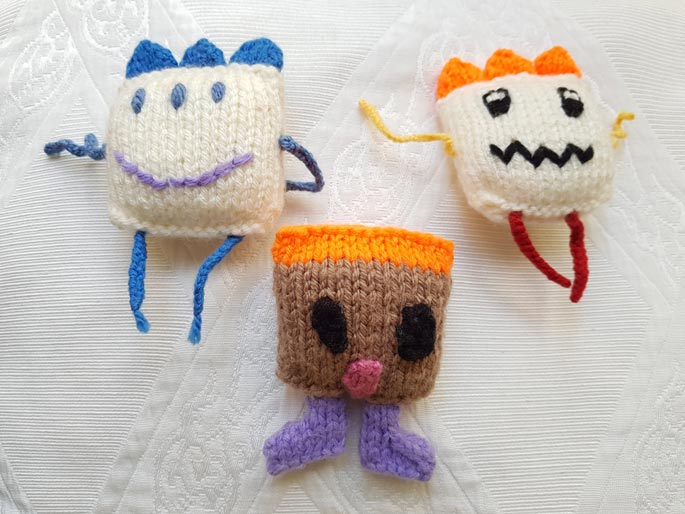 Behind the Scenes!
These patterns are all made up as I go along, learning from mistakes along the way. Every time I create a new pattern, I record it in the Updates part of this site (effectively my blog…)  There is a story behind each creation, and this can help give you some more ideas and encouragement.
All done?
Feel free to share your successes or any other tips or suggestions by contacting us. If it's all gone swimmingly and you're ready for your next challenge, have a look at what to try next!