We're celebrating 11 years of marriage, and to be honest, with anniversaries and birthdays and every other 'special day' you begin to run out of gift ideas. At least for anniversary gifts, it's made a little bit easier by googling the symbols for each wedding anniversary. Wikipedia has guided me this year - 11 years is to be celebrated in the UK with jewellery/accessories, and in the US with steel. After several searches for ideas and inspiration a trip to the local shops resulted in my spotting of something stainless steel... a little chip bucket! Chips aside, I could see the potential in it, and this had to be better than a saucepan...
As well as being a quick thing to make (to be honest I left myself two days to think of something and get it sorted), the plan was also to give something special while not adding to the houseful of clutter we already have. This gift idea combined purpose with a handmade thoughtful touch of something knitted - a decorative storage solution for those little bits and bobs that get left lying around.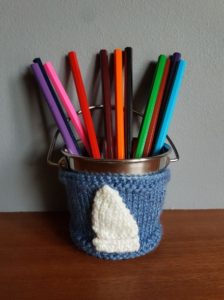 Versatile!
So as well as shoving it full of sherbet lemons or another sweetie treat, the buckets themselves can be popped on the side for a few uses - whether that's a pencil pot, old batteries or receipts. I plan on doing another little one for Ellie's bedroom to put all of her little hairclips in (any attempt to encourage tidying up as opposed to a floor-scattering). You can pop any design you like on the basic cover. I plan to use a flower and a couple of hearts from the name plaque design for Ellie's - just mix and match patterns and ideas to make you own unique design.
It's also great that the wool / knitting is flexible and so not only can you get away with any slight miscalculation in size, it can also stretch to increase it's number of uses - this same cover also works as a cosy cover for this Contigo travel flask!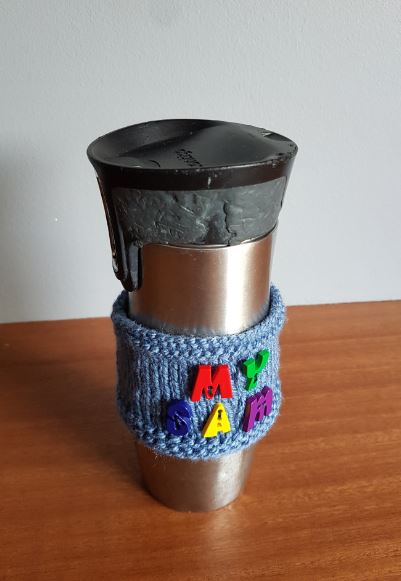 Add your own Style...
Due to the shape, it will naturally slip off the bucket when lifted up, so unless you intend for it to be just a decorative side piece or be permanently sat down, you may wish to finger knit a couple of little bows to attach to each side to keep the cover fixed in place. Especially if you're making a cover for a bucket that a little one would like to carry around.
Adjusting the Size
The fitted cover knitting pattern shows you how I've worked out the right size for my cover, but also how you can amend it so that you can work out the number of rows and decreasing stitches you need so you can adjust the pattern. So instead of popping to Melton Mowbray, Leicestershire to get the above bucket, you can get anything you like and make your own personalised knitted cover to fit the exact size and shape of your own item. So whether it's an anniversary or other unique gift, or you fancy making a handmade knitted touch to a room in your own home, take a peek and have a go!
Check back in the updates here next weekend or email me to get the updated patterns straight to you. Us lucky lot have got two weeks off for our holiday now so will see what I can find out in the Pyrenees to have a go at...??!
Happy knitting!
Ali 🙂
Total time 1 Hours 50 Minutes (Cover as Shown)
Made from a single knitted main piece, and two small knitted pieces added to form a knitted sailboat. Added buttons for a finishing touch.
Adjust the size according to your underlying item, vary your colour and  the added knitted detailing or buttons to your preference.
Perfect handmade gift to both tidy and cheer up a room!
Knit Your Own Fitted Cover...
Get some ideas, see what you will need and follow the patterns to learn exactly how you can make your own...