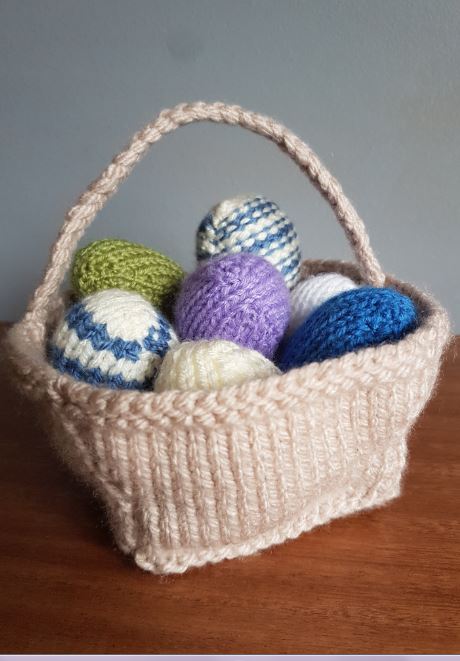 They say you shouldn't put all your eggs in one basket, but for Easter - the more eggs the better! This week I've made some knitted eggs, at only one hour each (goodness knows how I managed to squeeze in 9?!), as well as a little knitted Easter basket.
The basket was really easy to make, and on the written pattern I've put on some details of further changes you can make to add your own spin on it too. These baskets can also be used long after Easter, collecting anything from collector cards to seashells to conkers. Fill the basket to the brim with chocolate as a nice Easter gift, or swap that chocolate for some colourful knitted eggs (but who doesn't prefer chocolate really?!) So the latter may be a silly idea, but the knitted eggs can also make a perfect addition for an Easter egg hunt, or making a beautiful Easter decoration.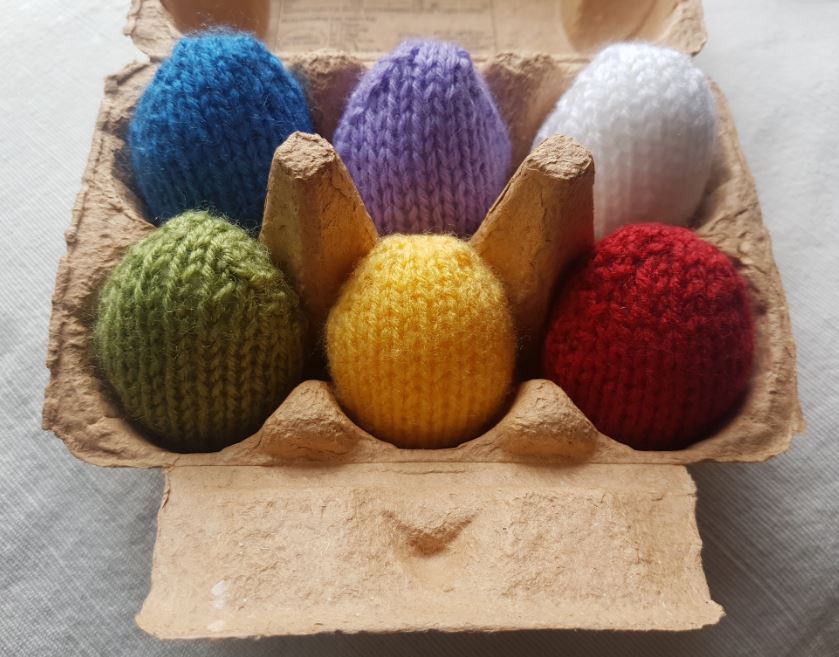 As well as being a nice handmade gift for Easter, the knitted eggs made in different colours are also great to play with beyond Easter. They are perfect for learning through play, helping to learn colours, some patterns e.g stripes, and size differentiation, as well as lining up and sorting. Ellie loves them (although she's rejected my basket for a bigger one, hmph.)  An empty egg box is perfect for storing them too.
So much more, so little time!
I ran out of time this week but there is so much more you can do with these eggs. I love the idea of decorating them individually to make my own little knitted egg family. So you could also have a go at that, but just watch you don't get into trouble for being too realistic. Now, how can I make the perfect 'grumpy morning husband' design?!
Check back in the updates here on Saturday next week or email me to get it straight to you. I'm going to have a go at some little monsters next week!
Happy knitting!
Ali 🙂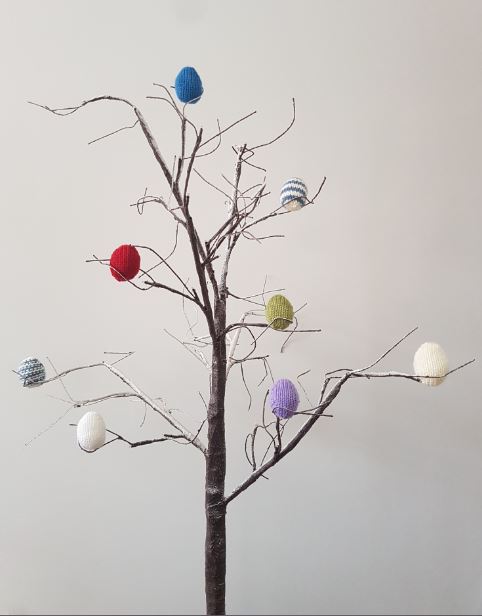 Total time 1 Hour for each Egg
Made from a single knitted piece - folded down, stuffed and oversewn. Choosing chunky or regular yarn can also vary the size.
Try different colours, patterns or stripes... Make six eggs to fit perfectly in an egg box, or as many as you like to decorate an Easter tree.
Total time 3 Hours 30 Minutes per Bssket
Made from four knitted side pieces, a bottom piece and a finger-knitted handle.
Add some detailing to the top and bottom, and some shaping at the sides. You can easily adjust this pattern to make the size and style you fancy.
Make Your Own Eggs in a Basket!
Get some ideas, see what you will need and see exactly how you can make your own, and even add you own little twist...