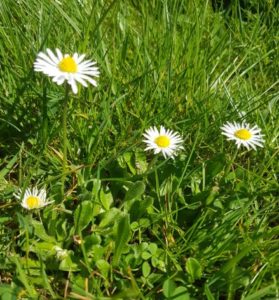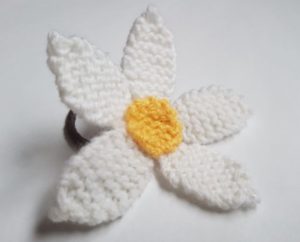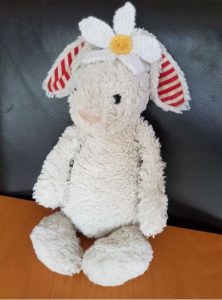 How to Knit a Daisy
Complete Size - 9cm width x 9cm height
What you will need...
Total time  1 Hour Each Knitted Daisy
4mm knitting needles (UK 8, US 6)
Double knitting yarn - Your Choice of Colours
Sewing up needle
Scissors
Optional pin badge or plain hairband to sew onto the back of your knitted daisy.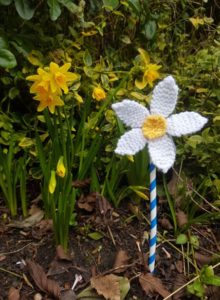 Before You Start...
Abbreviations
K = Knit   St = Stitch   Sts = Stitches
Cast On - I use the thumb method.
G-st = Garter stitch. Every row knit (no purl stitches).
Inc = Increase - by working into the front and the back of the same stitch, to make two stitches out of one.
K2tog = Knit two stitches together at the same time (thereby halving your stitches).
Dec = Decrease - by knitting two stitches together, making one stitch from two.
Sl2tog - Slip two stitches together from the left needle to the right.
p2sso - pass two slipped stitches over (over the knitted stitch).
TOP TIP
 Vary your number of petals and colour according to your own preference or flower design.
You can use these for all sorts of things - hair or toy accessories, decorative sideboard pieces, or on purses or handbags. I've even popped mine over the side of my rearview mirror (ensure you don't obscure your view!)
How to Make it...
Made from a five knitted petals and a circular knitted centre. All pieces are sewn together in the middle.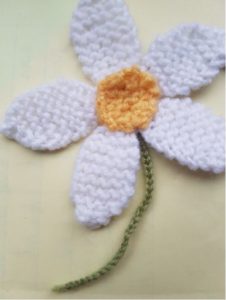 Petals
Make 5 Minimum
Time 10 Minutes Each Piece
Size - Width 2.5cm, height 4.5cm
Needles 4mm
Yarn White or Colour of Your Choice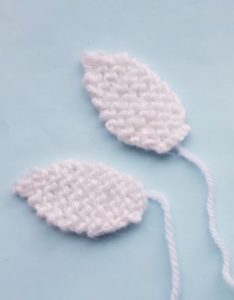 Cast on 4sts
G-st 2 rows
Next Row - Inc Kwise, K2, Inc Kwise (6sts)
G-st 11 rows
*Next Row - K2tog, K to end**
Continue from * to ** until 3sts remain
sl2tog, K1, p2sso
Flower Centre Piece
Make 1
Time 10 Minutes
Size - Width 2.5cm
Needles 4mm
Yarn Yellow or Colour of Your Choice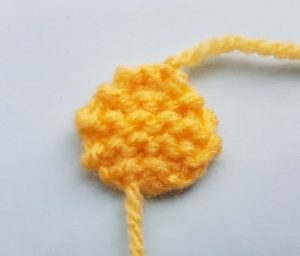 Cast on 3sts
Next row K
Inc K-wise into every stitch (6sts)
G-st 5 rows
Next row K2tog to end (3sts)
 Cast off
Piece it Together...
Bring the cast on edges of the five petal pieces together, which will form a circular shape in the centre. Catch the ends of the cast-on rows to the next petal to complete the ring shape. Once petals are all sewn together, sew the knitted centre piece onto the front of the knitted daisy. Fasten off loose ends.
Attach a straw, hairband, or finger-knitted stem onto the back of your knitted daisy according to your design.
If used, ensure that all pins are removed when completed.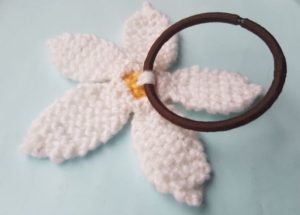 Make it Different!
Try different colour petals and centres to make a variety of flowers.
 You could choose to make your petals in stocking stitch, which would make a thicker, more sturdy petal with a smoother finish. Simply double the amount of petal pieces you make (two for each finished petal), and stitching two petal pieces wrong-sides together for each petal.
You could use chunky wool to make a larger, thicker petals and centre pieces.
These patterns are all made up as I go along, learning from mistakes along the way. Every time I create a new pattern, I record it in the Updates part of this site (effectively my blog…)  There is a story behind each creation, and this can help give you some more ideas and inspiration.
Feel free to share your successes or any other tips or suggestions by emailing me. If it's all gone swimmingly and you're ready for you next challenge, have a look at what to try next!