The Most Wonderful Time of the Year!
The kiddies are so excited with only 4 sleeps to go, and so I've been squeezing in a few little knitted festive things to spread the Christmas cheer. Pop these on the tree, cheer up an old stocking, or make little Christmas knitted hairbands. Ellie's favourite is the snowman but she was a bit disappointed that I didn't knit a unicorn. She also said she doesn't like the angel - so choose wisely if you make once of these as a gift for a 3 year-old!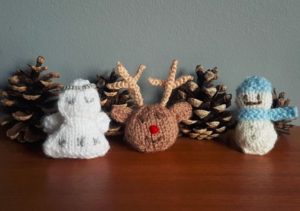 Great for Last-Minute Handmade Christmas Presents!
As it's getting close to the big day, I thought I'd get these patterns up and out there so there's still a few days to have a go at them. Great for any of those last minute panic Christmas presents! I'm currently making a little knitted Santa head to add to this collection which hopefully will be added with a couple of days to spare (got to stop being distracted by mince pies and mulled wine...)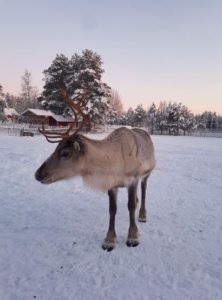 Festive Friends
I've noted down the patterns for all three - a knitted angel, a knitted snowman and a knitted reindeer, for a little bit of variation. I've sewn on hairbands to the back of mine so that Ellie can wear them at nursery, but instead of the hairband, just adding a finger-knitted loop or long thread into the top turns it into a nice hanging tree decoration. They could also then be attached to bags or drawers to make many other things a little more festive.
A Sprinkle of Magic
Christmas isn't Christmas without glitter and sparkle, and so once your festive friends are complete, you could spray a bit of glitter hairspray over them. Might stop that gradual puffiness developing as well as adding a bit of Christmas sparkle!
Add your own extra twist to this little Christmas collection - Whether it's adding stars to the angel's dress, different colours for hats and scarves or maybe working in stripes. Also experiment with different types of yarn - there are some great Christmas sparkly yarns out there, and I have used a sparkly silver for my angel and snowman.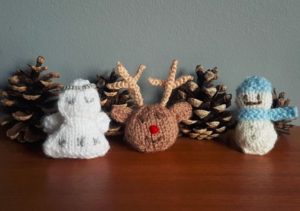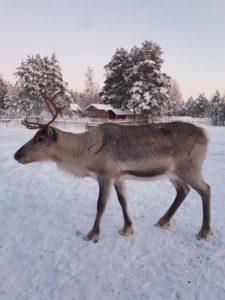 Also late in the day, but I've also been simultaneously working on a larger reindeer which hopes to stand alone on the mantelpiece. Pattern to be up soon. A knitted unicorn is also on the horizon for a very excited Ellie! Check out the updates section of this website to see the newest creations or contact me to get the updated patterns straight to you. Fitting In Knitting is also on Facebook, twitter and Instagram and so check these out if you fancy little sneaky previews of projects as they evolve.
Happy knitting!
Ali 🙂
Total time 1 Hours 20 Minutes
Made from two knitted body pieces, one knitted wing piece, and a finger-knitted halo. All pieces are sewn together with a couple of eyes sewn on and a few twinkly stars sewn on to the base of her dress.
Total time 1 Hours 5 Minutes
Made from two knitted body pieces, and a knitted scarf. All pieces are sewn together with a some sewn on facial features and buttons.
Total time 1 Hours 45 Minutes
Made from one knitted body piece, two knitted ears, and four small finger-knitted pieces to make up the two antlers. All pieces are sewn together with a some sewn on facial features.
Knit Your Own Christmas Gifts...
Get some ideas, see what you will need and follow the patterns to learn exactly how you can make your own. Alternatively, have a look at the patterns page to see some other knitting ideas for those last-minute handmade Christmas gifts!