Beautiful Memories
It was my late grandma who taught me how to knit, and another thing she loved to do was to have a walk around our local reservoir to see the swans. Particularly to see how many cygnets they had! Such happy memories and this is the spur for my recent creation. With such elegance and beauty, putting swans into knitted form was always going to be a bit of a challenge but one I tried to embrace!
The Mute Swan
In keeping with my local area, I decided to knit a mute swan, but depending on your location, you may wish to do an alternative breed, or simply choose to do a generic swan (with a bit of artistic licence), particularly if knitting for a child (who probably wouldn't give a monkeys about the detail). There are whoopers, black swans and all sorts of others. See the rare Coscoroba swan below. The costocoroba swan is the smallest of the swan species, and looking more like a goose (no it's honestly not a goose!) and with a plain red beak, it is simpler to make.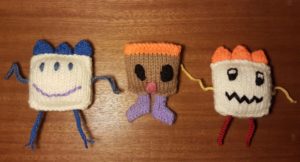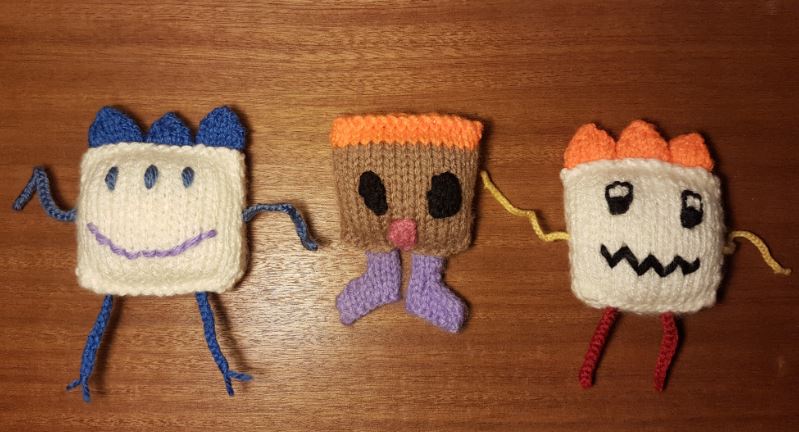 I was also surprised to see the unusual black-necked swan of southern Chile. (Great for grubby hands dragging a swan round by the neck.) And so there are some curiosities of nature, so if your knitted swan doesn't look quite right, it can be described as perhaps a rare breed.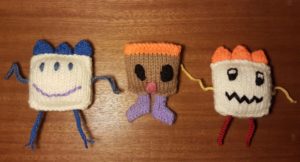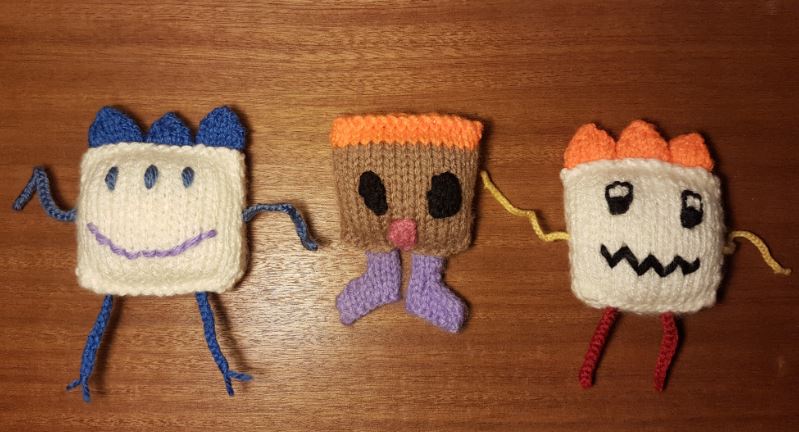 Pattern Variations
Colours required for your knitted swan will depend on your breed of choice, and there are also some slight pattern differences to note if you wish to stick as close as possible to the real thing. (I have shown these in the pattern also.) The mute and black-necked swans have what they call a 'basal knob' (posh name for the lump above its beak). These therefore take a little extra time.
Fairytales
This knitted swan would make a nice knitted wedding gift, or knitted decoration for the house. If knitted securely, it can also be great knitted childrens gift with a nice long neck to cling on to and drag around. If wishing to make this for a child, white is definitely not the most practical colour, especially when your creation becomes well-loved. Therefore, you may wish to consider the same knitting pattern to make a knitted cygnet, using grey yarn instead of white, and continuing to use black instead of yellow/orange for the beak. As well as being a more practical colour for children, it also then becomes the knitted ugly duckling from the fairytale. Great accompaniment when reading this classic bedtime story!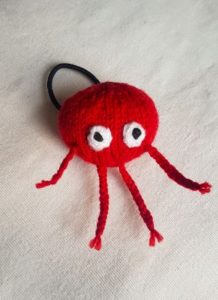 Blast from the Past!
I recall at the age of 15 I did an 'Expressive Arts' project, and this was my first ever made up knitting pattern. Swans were my chosen theme even back then, and I was supposed to be experimenting with many different materials. Wool and knitting was one that I chose, and was very proud of my achievement, even though it turned out to only be a head. A trip into the loft and I have rediscovered this long-lost treasure! Several years later, I'm giving it another attempt and seeing it through from just a head, to a full swan. Progress!
Contact me to get any new or updated patterns straight to you. Or keep an eye out on the updates section of this website to see the newest creations. Fitting In Knitting is also on Facebook, twitter and Instagram for some sneaky previews of projects as they evolve….
Happy knitting!
Ali 🙂
Total time ??? Hour ??? Minutes
Made from one knitted body piece, one neck piece, one head and beak piece, two knitted leg pieces, and four small knitted pieces to form the two feet. Optional two pieces to form the sides of the face colouration, and one piece if needed for the basal knob (mute and black-necked swans only.) All pieces are sewn together and stuffed, with added stitching for the eye features. Depending on your breed of swan, an extra knitted lump for the top of the beak (basal knob), may also be sewn into place.
Handmade Gift Ideas!
Get some more ideas, see what you will need and follow the patterns to learn exactly how you can make your own… More Knitted Gift Ideas!
I aim to have a new pattern up on the website every few weeks (children and their busy schedules permitting!) and I'll let you know as soon as the next one is up and ready to go…