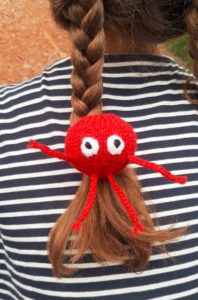 How to Knit a Red Nose
Complete Size – 4cm width x 4cm height (excluding limbs)
What you will need…
Total time – 2 Hours 20 Minutes Each Knitted Red Nose (as shown)
3.25mm knitting needles (UK 10, US 3)
Double knitting yarn – Red, White, Black
Sewing up needle
Scissors
Toy filling/stuffing
Optional plain hairband to sew onto the back of your knitted red nose.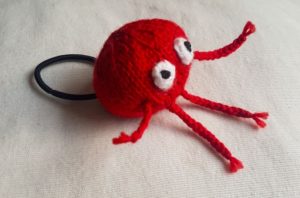 Before You Start…
Abbreviations
K = Knit   P = Purl   St = Stitch   Sts = Stitches
Cast On – I use the thumb method.
St-st = stocking stitch. Alternating a row of knit stitches (right side), with a row of purl stitches (wrong side).
K2tog = Decrease by knitting two stitches together, making one stitch from two.
Inc = Increase – by knitting into the front and the back of the same stitch, to make two stitches out of one.
Cast off – K wise or P wise according to pattern. US – bind off.
B&T tightly – Using sewing up needle, thread yarn through all remaining stitches.
TOP TIP
Get children to help you come up with some designs – great inspiration for them, and gets into the comic relief spirit with some weird and wacky ideas.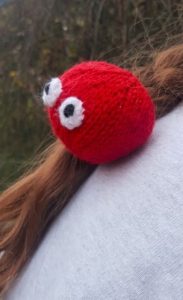 How to Make it…
Made from one knitted main nose piece, with some added facial features and finger-knitted limbs, as per your design or preference.
Main Piece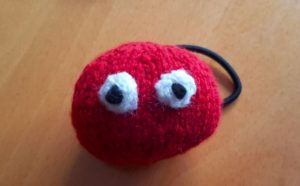 Make 1
Time – 1 hour Each Piece
Piece Size 8 cm x 4 cm
Needles 3.25 mm
Yarn Red
Cast on 4sts
P 1 row
Inc Kwise into every St (8sts)
P 1 row
Inc Kwise into every St (16sts)
P 1 row
Next row (K1, Inc Kwise) to the end (24sts)
P 1 row
Next row (K2, Inc Kwise) to the end (32sts)
P 1 row
Next row K2 (Inc Kwise, K2) 10 times (42sts)
Beginning with a P row, st-st 9 rows
Next row K2, (K2tog, K2) 10 times (32sts)
P 1 row
Next row (K2, K2tog) to the end (24sts)
P 1 row
Next row (K1, K2tog) to the end (16sts)
P 1 row
Next row K2tog to the end (8sts)
B&t tightly
Eyes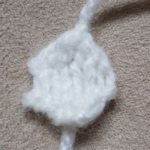 Make 2
Time – 5 Minutes Each
Piece Size 1.5 cm x 1.5 cm
Needles 3.25 mm
Yarn White
Cast on 2sts
Inc Kwise into both sts (4sts)
Beginning with a P row st-st 3 rows
K2tog twice (2sts)
P2tog and fasten off
Piece it Together…
Sewing-up time – 30 Minutes as shown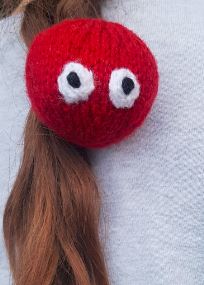 Sewing Up
Red Nose Head Piece – With right side of stocking-stitch on the outside, oversew row ends, leaving a small gap in the seam. Mattress stitch will leave a nice neat finish.
Stuff lightly with toy filling, then close the gap in the seam. Fasten off all loose ends.
Facial Features – Backstitch pupils onto the eye pieces using black yarn; counting the numbers of knitted stitches for each pupil to keep your design symmetrical. Pin and sew these completed eye pieces into place on the main nose head piece, and add any other detailing required as per your design.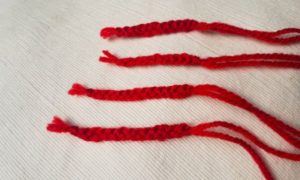 Limbs – Finger-knitted lengths of yarn, four in total. Two longer ones and two slightly shorter ones to your desired length, for the legs and arms respectively. 20 minutes to complete all pieces. Sew these into place onto the main nose head piece.
Ensure all pins are removed when complete.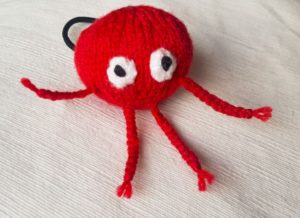 Making a Hairband
Sew the hairband so that it lies horizontally across the back of the nose, in line with the seam, and about one third down from the top of the nose. This will allow the face to rest in the upright position in the hair, and also allow it to rest naturally and not fall over being top heavy.
Oversew the band several times to give it strength and longevity.
Make it Different…
As well as coming up with your own designs, it may be helpful to have a look at the knitted monsters from last year. Use parts of these patterns to make little additions to your red nose.
Add a hairband to the back of your knitted red nose to wear your red noses proudly on display. Alternatively, sew onto a shirt or a top to get into the spirit of things, or dangle their little legs over the edge of your monitor or desk!
As well as being a traditional knitted red nose to celebrate Red Nose Day for Comic Relief, this pattern can be used to make other little faces so that they can be played with or worn all year round.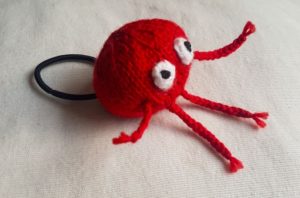 Behind the Scenes!
These patterns are all made up as I go along, learning from mistakes along the way. Every time I create a new pattern, I record it in the Updates part of this site (effectively my blog…)  There is a story behind each creation, and this can help give you some more ideas and encouragement. See the Update info….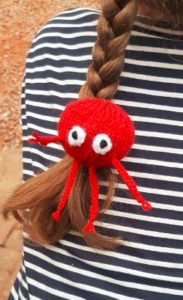 All done?
Feel free to share your successes or any other tips or suggestions by contacting me. If it's all gone swimmingly and you're ready for your next challenge, have a look at what to try next! My next pattern!