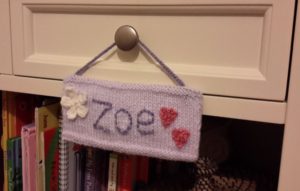 How to Knit a Name Plaque
What you will need...
Total time  2 Hours 30 Minutes (basic plaque - add extra for any added detailing)
4mm knitting needles (UK 8, US 6)
Double knitting yarn - Choice of Colours
Sewing up needle
Scissors
Thick Cardboard for inner Structure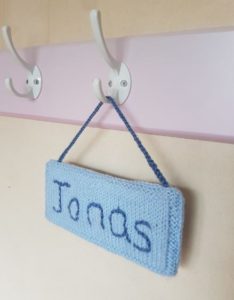 Before You Start...
Abbreviations
K = Knit   St = Stitch   Sts = Stitches
K2tog = Knit two stitches together at the same time (thereby halving your stitches).
Dec = Decrease - by knitting two stitches together, making one stitch from two.
St-st = Stocking stitch. Alternating a row of knit stitches (right side), with a row of purl stitches (wrong side).
Cast On - I use the thumb method
TOP TIP
Choose your yarn - this pattern may look thicker and tighter if using smaller needles, e.g 3,25mm when using regular yarn. However, the finished product will therefore also be smaller in size - increase the number of rows or cast on stitches to adjust for this.
When fastening off any loose ends of any embroidery or knitted detailing, try not to leave any long ends, especially if they are of darker colour yarn, as this may show through the front surface.
Make sure it is not accessible to baby due to the choking risk.
How to Make it...
Two basic pieces oversewn together separated by a thick cardboard to provide stability. With added knitted flower and knitted heart detailing, and backstitch lettering.
Basic Piece
Make 2
Time 1 Hour Each Piece
Size - Width 18cm, height 8cm
Needles 4mm
Yarn Colour of Your Choice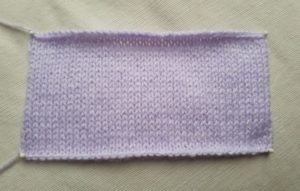 Cast on 40 sts
Beginning with a P row, st-st 2 rows (forms border)
Beginning with a K row, continue in st-st a further 19 rows
Beginning with a K row, st-st 2 further rows (top border)
Cast off
Add a Flower
Make 5 Petals
Cast on 2sts
Next row Inc Kwise into both sts (4sts)
Beginning with a P row st-st 3 rows
Next row K2tog twice (2sts)
Next row P
Next row K2tog &fasten off.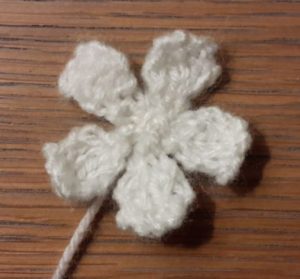 Add a Heart or Two
Cast on 4 sts
Next row Inc K wise, K2, Inc Kwise (6sts)
Next row P
Next row K2tog, K2, K2tog (4sts)
Next row P
Next row K2tog twice (2sts)
Next row P
Next row K2tog &fasten off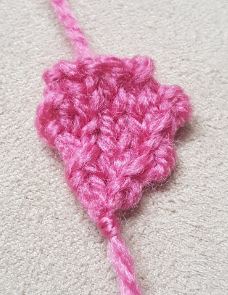 Embroidery
Different techniques and I don't know anything about it, but I just used back-stitch to get the names on.
I used chunky wool for the embroidery for it to stand out more clearly.
Count numbers of stitches and rows to pin out the size and position of your letters.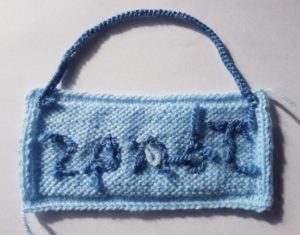 Piece it Altogether
Ensure all lettering and any extra knitted detailing are sewn onto the main front piece.
Sew on both ends of the finger-knitted handle onto the inside of the front surface, about 1cm from the top for added strength. Adjust the length of the handle according to your preference.
Oversew row ends. and over the cast on and cast off stitches of the two main pieces, over the cardboard support. Fasten off loose ends.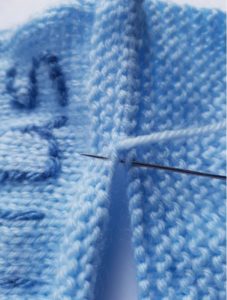 Make it Different!
Try a different pattern such as stripes, working two rows each of individual colours.
Embroidered lettering may be a name but may also be a room or occasion e.g home, pantry, loo etc, or even tea/coffee on each side! I thought I might do an orange/green version with 'Boo!' for halloween...
 You could use chunky wool to make the main pieces - you would need to do fewer cast on stitches and reduce the number of rows to keep a similar size but this would get done so much quicker.
Garter stitch is an alternative to stocking stitch, and would also allow the plaque to keep its shape better and stay flat.
These patterns are all made up as I go along, learning from mistakes along the way. Every time I create a new pattern, I record it in the Updates part of this site (effectively my blog…)  There is a story behind each creation, and this can help give you some more ideas and inspiration.
Feel free to share your successes or any other tips or suggestions by emailing me. If it's all gone swimmingly and you're ready for you next challenge, have a look at what to try next!