Getting Ready for Halloween!
The bags of Halloween 'stuff' have all been dragged down from the loft once again, in preparation for cluttering up the house with the usual Halloween-themed bit and bobs. Although trick or treating is likely to be off the cards for many once again this year due to Covid-19, there are still ways we can mark the occasion, without picking up horrible bugs, and without spending a fortune. We will certainly be doing our usual family Trick or Treat Tradition by dressing up all silly and knocking on the doors of granny's, aunties, and uncles to scrounge some sweeties from the pre-warned sweetie-prepared family.
In with the Old…
In our house, many old costumes get dusted off and tried on for size, the joyous hand-me-downs, to save spending money on a new fancy costume. This knitted devil horns headband was actually made two years ago and has come back out of the loft for another year. Fantastic for the environment – being used again and again, but what is even better, is that it was made from an old upcycled headband. The ribbon was peeling off and it was destined for landfill until I thought that a Halloween knitted devil horns headband would be a much better use for it. I simply made a quick knitted headband cover and two knitted devil horns to put on to the top. It also made the perfect quick homemade Halloween accessory for my eldest daughter who at the time wanted something for trick or treating with her friends.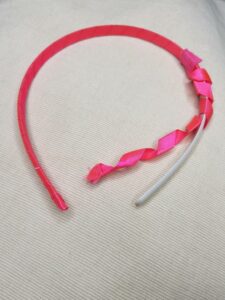 Waste not Want not…
As well as being good quality and standing the test of time, this knitted headband actually fits us all in the house – from the 6-year-old to even grown-up me. (I did take a photo of me wearing it but got a bit shy and didn't want to put it on here so you've got a cute little Eleanor wearing it instead..!) If you have any old different-sized headbands you would like to reuse, no worries, the devil horns knitting pattern can also be adjusted to make a piece that will fit. Alternatively, save a good chunk of time by using an old (or new!) plain red headband and simply sew the horns directly to it. This means part of the pattern – the knitted headband cover piece – will not need to be made. Although it won't look as quite a good a finish, if out trick or treating I'm sure nobody will look that closely… And the whole thing can also then be whipped up in about 1 Hour 15 Minutes – much quicker for those last-minute costumes!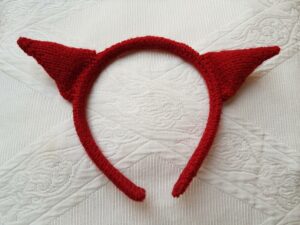 Add to the Halloween Collection!
These knitted devil horns are one of a few different Halloween knitting patterns I've popped on the site. The following are a few other ideas to get into the knitting spirit with these chillier nights and add a bit of a homemade touch to your Halloween decor.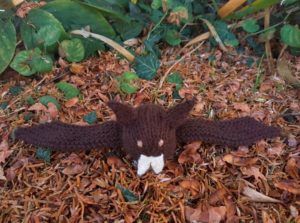 Happy knitting!
Ali 🙂
Total time – 2 Hours 15 Minutes Completed Knitted Horn Headband
Total time – 1 Hour Completed Knitted Headband Only
Made from two knitted horn pieces, and one knitted headband piece. All pieces are sewn together around, and on top of, preferably an old headband to give it a new lease of life. Alternatively, use the pattern for the headband piece only to make a plain knitted headband – great to match school uniforms!
Handmade Gift Ideas!
Get some more ideas, see what you will need, and follow the patterns to learn exactly how you can make your own… More Knitted Gift Ideas!
I aim to have a new pattern up on the website every few weeks (children and their busy schedules permitting!) and I'll let you know as soon as the next one is up and ready to go…