How to Knit Bunting
What you will need...
Total time  1 Hour 10 Minutes per triangle
4mm knitting needles (UK 8, US 6)
Chunky Double knitting yarn - various colours
Sewing up needle
Scissors
Ribbon for stringing along
Before You Start...
Abbreviations
K = Knit   St = Stitch   Sts = Stitches
K2tog = Knit two stitches together at the same time (thereby halving your stitches).
G-st = Garter stitch. Every row knit (no purl stitches)
Cast On - I use the thumb method
Sl2tog - Slip two stitches together from the left needle to the right
p2sso - pass two slipped stitches over (over the knitted stitch)
TOP TIP
To prevent losing track of which row you are working on and counting your rows all over again, mark every 15 rows so that you don't need to count them all.
Make a note of your three times table! This will help you count your rows to work out which row you are supposed to be working on, according to the pattern.
Using the same brand of 'chunky' wool for each triangle will make your individual pieces exactly the same size, otherwise there will be some variation. Or as I've done - use up some old different ones you've got and call it character!
How to Make it...
A string of individual knitted triangles of different colours.
Basic Piece
Make 6
Time - 1 hour 10 Minutes Each
Size - Width 12.5cm, height 19 cm (approx.)
Needles 4mm
Yarn Colour of your Choice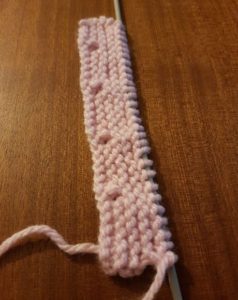 Cast on 24sts
Next row K
Form eyelets
K3, (K2tog,yrn, K3) 4 times, K1
Next row K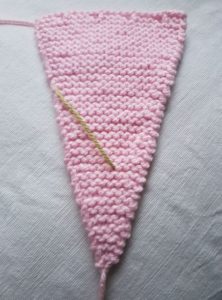 Begin Shaping
Next Row *K1, K2tog, K to end
G-st 2 rows**
Continue from * to ** until 3sts remain
G-st 2 further rows to complete the repeating pattern
Next row sl2tog, K1, p2sso and fasten off.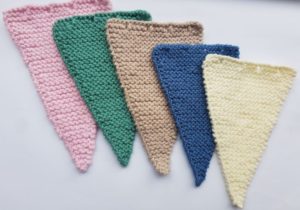 Piece it Altogether
Fasten off loose ends of each triangle.
Thread through a piece of ribbon/cord/yarn through the eyelets to attach each triangle together in line.
Tie knots or bows at the ends and string across your desired doorway or room!
Make it Different!
Try different repeating patterns and colour schemes, and add extra triangles for a longer length (maybe an extra one for each birthday!)
Try different ribbon, cord or  yarn to string them along.
Perhaps add in a bow or a bead between each triangle for a twist on tradition.
Embroider a letter onto each triangle if you wish to spell out a name or an occasion.
These patterns are all made up as I go along, learning from mistakes along the way. Every time I create a new pattern, I record it in the Updates part of this site (effectively my blog…)  There is a story behind each creation, and this can help give you some more ideas and inspiration.
Feel free to share your successes or any other tips or suggestions by emailing me. If it's all gone swimmingly and you're ready for you next challenge, have a look at what to try next!