A Knitted Daffodil for Mum
Mothers' Day is a perfect opportunity to fit in some knitting for your mum, grandmother, or other special lady. So here is the one I made for my mum! This daffodil knitting pattern is also the first pattern I've made to put on this website, so even more special. Making a handmade knitted daffodil will mean a lot to your special person, and can be treasured long after those flowers have faded away or chocolates been munched.
The Marie Curie Great Daffodil Appeal 2018 is also in March, and so perhaps make a knitted daffodil to put on a brooch? Show your support to this worthwhile cause (and make a donation of course too, if you can!)
Not quite what I had in mind!
With my mum loving yellow flowers, I thought I would knit a lovely bunch of daffodils for her. Um... no chance, sorry mum! I realised shortly into it that this was not realistic nor achievable in time (it was that aagh, it's a week away, what on earth do I get scenario). I managed the one knitted daffodil which I thought looked lovely, but it did take a bit longer than I'd expected to get it just right.
But, it's all a learning curve! I'll chalk this one down to experience and make sure that future patterns are quicker and easier as I intended. But, as I thought it looked OK in the end, I thought I'd pop it on here.
I even managed to squeeze in time to knit another couple of small things and made them into a handmade Mothers' day card too (more patterns on their way!) This was probably knitted-gift overload for her, but hey, they were only small - she can always hide them in a drawer and dig them back out when she knows I'm next round!
Check back here next week to see my four-leaf clover and shamrock, perfect timing for St Patrick's Day, or any one in need of a bit of luck sometime soon.
Happy knitting!
Ali 🙂
Total time 6 hours 30 minutes... But, made up of eight parts, this can easily be broken down into smaller chunks. I made the whole thing in little bits over 6 days.
Six petals made using stocking stitch for a smoother finish. This pattern uses increasing and decreasing stitches for softly-rounded edges.
Predominantly stocking stitch for a more smooth-looking appearance, with some increasing, decreasing and yarn over stitching.
A straightforward stocking stitch stem, made-to-measure to fit over a straw. This provides a smoother look, stability and a gentle curve.
Make Your Own Knitted Daffodil!
See what you will need and exactly how you can make your own, and even add you own little twist...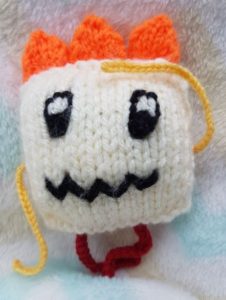 I aim to have a new pattern up on the website every few weeks (children and their busy schedules permitting!) and I'll let you know as soon as the next one is up and ready to go...