As well as December, May seems to be birthday season in our family, with my daughter Caitlin's two weeks ago and mum's yesterday. So lots of knitted things to make, and with the kiddies off for the half-term holiday, it's been nice being out and about just watching the kiddies being kiddies. Hence the large gap in updating the website and adding new stuff. But I'm now back on track with a few things I've made from the past few weeks.
Mum's just redone her kitchen and with some not-so-subtle hints, I got the impression she wanted a co-ordinating tea cosy. With fuchsias?!?! For one, I don't know why she couldn't have picked an easier flower. Thanks to google I got some pictures for inspiration. (And confirmed the spelling of course, fuchsia is indeed the correct albeit confusing spelling, not fuschia...)
When broken down into its constituent parts, as with any tasks, even the biggest challenge be made to look simple. In researching fuchsias, I have been taken back to school days and refreshed on my plant anatomy - four longer sepals, four smaller petals, with eight stamen seemed to be the consistent theme. Eight stamen seemed a lot for my design and so I adopted a touch of artistic licence and made five. Again, sorry mum, I planned to pop three fuchsias on the top of the tea cosy, but running out of time, I had to go for just the one. As for the cosy, at least her colour scheme was a nice dark purple - a great forgiving colour for any tea spills.
After giving mum her gift, I did then have a go at a beautiful white and purple variety which I'd found when googling. Although I think these look beautiful the white is perhaps not the most practical colour and this may limit their use. They certainly wouldn't look too good covered in tea!
As for tea cosy design, I chose to design a larger 'over the whole pot' cosy. Many knitted designs show a smaller fitted style, with a space either side for handle and spout. Although perhaps nicer for the table, I went for this more heat-efficient design that mum's always gone for, and is also less likely to get covered in tea from any annoying leaky teapots. To top off mum's gift, I popped it in a nice presentation box and with a little help from 2 year-old Ellie, the lilac tissue paper was fixed with a nice sticker from her Peppa Pig magazine. Perfect!
Keep it Practical!
I've attached the fuchsia at the top of the tea cosy with a simple bow on the inside. This allows easy removal, and has been done for a couple of reasons. First, it allows the more delicate fuchsia to be removed so that the basic cosy can be washed more easily (the yarn I chose specified machine washable, and can even go in the drier!) And after a quick wash for any of those stray tea stains, this may literally allow mum to wear a tea cosy on her head - the size was perfect for a cosy hat (perhaps minus the fuchsia!)
The fuchsias can of course be used on a multitude of other things such as bags and cards, or other accessories, with all sorts of colours for whatever takes your fancy.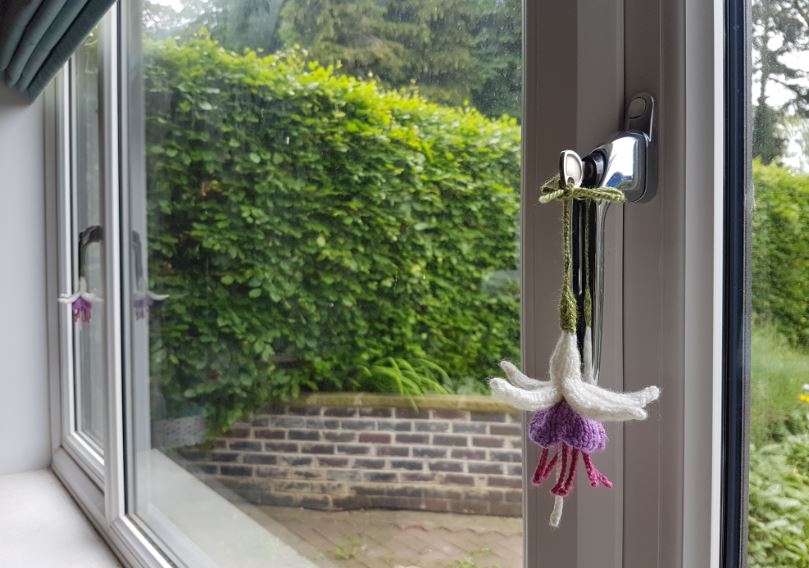 So hopefully not too long again before the next update. Check back in the updates here or email me to get any new and updated patterns straight to you.
Happy knitting!
Ali 🙂
Total time 1 Hour 50 Minutes (Each Fuchsia)
Made from 9 Knitted Pieces and 9 finger-knitted pieces sewn together.
Vary your colours and adjust the stamen to your particular variety of choice.
Perfect decorative piece or accessory.
Knit Your Own Fuchsia...
Get some ideas, see what you will need and follow the patterns to learn exactly how you can make your own...
Total time 6 Hour 30 Minutes (Each Tea Cosy)
Made from a two knitted main pieces oversewn together.
Vary your colour and add a variety of different accessories on top such as the fuchsia above.
Knit Your Own Fuchsia Tea Cosy...
Get some ideas, see what you will need and follow the patterns to learn exactly how you can make your own...