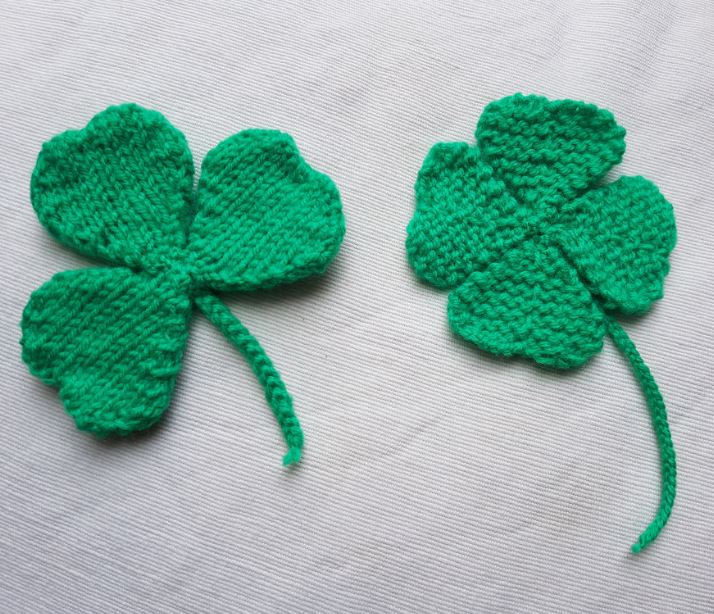 Get into the spirit by knitting a shamrock, or add an extra leaf to have the perfect symbol of good luck, the four leaf clover. So get creative, and put your completed piece on a greetings card, or sew onto the front of a hat or t-shirt to get into the St Patrick's day spirit. And after you've finished knitting your shamrock, I guess you can say you've earned your tipple!
I wanted to make a four-leaf clover for my brother who has his GCSE exams coming up, so I came up with this design and made it for him to pop in his pocket. Good luck Mattie! So if you've got a friend who is in need of a bit of luck, this makes a perfect gift to help them on their way too.
So whether you fancy knitting a shamrock or a four leaf clover, I found these really quick and easy to knit, managing to squeeze in time to make both of them over the past week, doing the odd leaf at a time. I would've finished them sooner if it weren't for Ellie stealing a couple, apparently I had them first Mummy!
Wish me Luck!
As the Easter things are all cropping up in the shops now, tempting our children to ask us to buy this, that and the other, I thought I'd work on some brightly coloured eggs in some Easter baskets to keep them at bay. A bit of Easter crafty fun while not costing us too much. Check back in the updates here on Saturday next week or email me to get it straight to you.
Meanwhile let's celebrate good old St Patrick with my favourite St Patrick's Day joke - How can you tell if an Irishman is having fun? He's Dublin over with laughter!
Happy knitting!
Ali 🙂
Total time 2 Hours 20 minutes or 1 Hour 40 minutes respectively.
Make Your Own Clover!
See what you will need and exactly how you can make your own, and even add you own little twist...