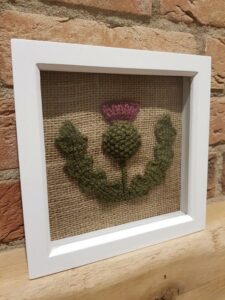 Great Ideas & Teamwork!
Thanks to a lovely email from Helen, this thistle knitting pattern has been created! Helen contacted me to say that she had looked on the website but couldn't see a thistle pattern, and kindly contacted me to ask if it was something that I could do. She had the wonderful idea of knitting the four national flowers of the United Kingdom for the upcoming Queen's Platinum Jubilee 2022 (70 years!) Helen had seen the knitted shamrock and knitted daffodil on the website, and I thought one of a similar size would work well for what she needed.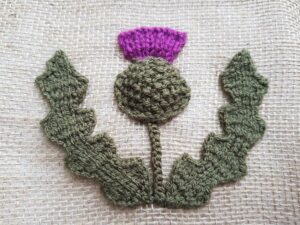 Embrace a Challenge!
Having lived for 9 years in Edinburgh and its surroundings, Scotland is certainly a place very close to my heart, and so I was more than pleased to embrace the challenge. I asked Helen if there were any other specifications she had in mind for the knitted thistle she wished to make, such as size and whether she wanted a flatter or three-dimensional thistle. There was plenty of time to come up with a pattern before the weekend of 2nd-5th June 2022 when celebrations are being held. After a bit of thought, I had a rough idea for the style I thought would look right, creating some different textures for interest and likeness, and started some experimentation with shapes. And after a bit more trial and error with the sizing; making the flowerhead the correct height, with leaves thin enough and not too long, the final knitted thistle pattern was created!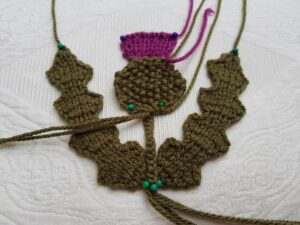 Handmade with Love…
Once happy with my pattern, I had to work out what to do with my own version. These knitted thistles can be made to decorate a multitude of items to give them a Scottish edge! Try sewing one onto a cushion cover, blanket, or bag, or perhaps a few things to make a matching set. You could even pop one on a t-shirt or jumper, for a quick homemade St Andrew's day outfit (30th November). I saw some nice box frames and so decided to buy some hessian to sew my knitted thistle onto, to make a nice knitted picture – great as a handmade knitted gift! Have a think about your finished design and adjust this pattern to your preference – add extra flowers, a longer stem, or more leaves, for example, especially if you wish to cover a larger area. But depending on your purpose, thistles come in all sorts of colours – take your pick!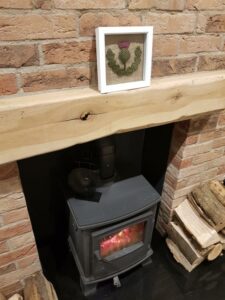 Platinum Jubilee Ideas!
This knitted thistle can be made as part of the full collection of knitted flowers to help celebrate the Queen's Platinum Jubilee 2022. The website also has patterns for other knitted national flowers of the United Kingdom – take a look at the little Knitted Daffodil, the National flower of Wales, or the Knitted Shamrock, the National flower of Northern Ireland. Use these patterns to create your own unique knitted Jubilee decoration – perhaps a knitted flower in each of the four corners of a blanket? Or add them to some triangles of bunting? (Take a look at the Knitted Bunting I've also put on this site, but make sure you add extra rows to make each triangle big enough!) I just need to get working on a knitted rose for England – watch this space!
Contact me to get any new or updated patterns straight to you. Or keep an eye out on the updates section of this website to see the newest creations. Fitting In Knitting is also on Facebook, twitter and Instagram for some sneaky previews of projects as they evolve….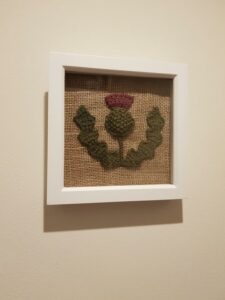 Happy knitting!
Ali 🙂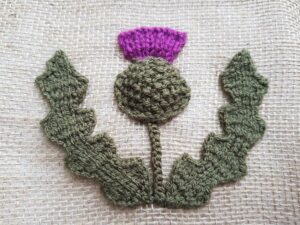 Total time – 1 Hour 10 Minutes Each Knitted Thistle Only
Total Sewing/Making up Time in Box frame – 40 Minutes
Made from two knitted leaf pieces, one knitted flower main piece, and one finger-knitted length to make up the stem. All pieces are sewn together, on top of your desired surface. (Box frame aperture size below 15cm x 15cm).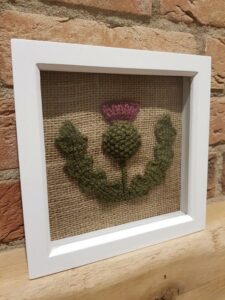 Handmade Gift Ideas!
Get some more ideas, see what you will need and follow the patterns to learn exactly how you can make your own… More Knitted Gift Ideas!
I aim to have a new pattern up on the website every few weeks (children and their busy schedules permitting!) and I'll let you know as soon as the next one is up and ready to go…